Event Date/Time
Saturday, January, 19 2019, 7:00 PM to 10:00 PM
Event Location
White Oak Music Hall
2915 N Main St.
Houston, TX 77009
Loading map...
Map shows approximate location.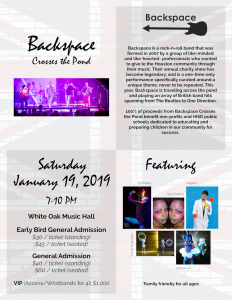 Backspace is a rock-n-roll band that was formed in 2007 by a group of like-minded- and like-hearted!- professionals who wanted to give to the Houston community through their music. Their annual charity show has become legendary, and is a one-time-only performance specifically curated around a unique theme, never to be repeated. This year, Backspace is traveling across the pond and playing an array of British band hits spanning from The Beatles to One Direction.
Come support OpHeart and our mission to improve the quality of treatment and ultimately save the lives of babies born with life-threatening heart defects.
Tickets
2019 Sponsors