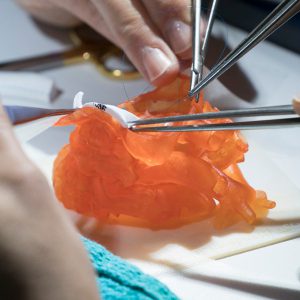 Practice hearts make perfect surgery.
The applications for 3D-printing in pediatric cardiac treatment are numerous, and the printing of flexible models to train surgeons on particularly complex cardiac anomalies has always been a high priority for us.
With the help of several surgeons, 3D-printing experts and Form Labs, we have been working to develop a set of complex heart defect models, at a low price point that makes single use realistic.
Cases include:
Tetrology of Fallot
Transposition of the Great Arteries (IVS)
Transposition of the Great Arteries, VSD, PS
Congenitally-corrected Transposition of the Great Arteries, PS
Hypoplastic Left Heart Syndrome
Double Outlet Right Ventricle, VSD type
Double Outlet Right Ventricle, TOF type
Double Outlet Right Ventricle, TGA type
Double Outlet Right Ventricle, Remote VSD (uncommitted VSD)
Double Outlet Right Ventricle, AVSD (AV canal)
Double Outlet Right Ventricle (IVS)